Joe's obituary, as presented here and with the photo of him in his Army Airforce Uniform, was printed in the
Bel Air Aegis
on December 14, 2012. A more
formal obituary
was printed in the
Baltimore Sun
on December 16, 2012.
Joseph (Joe) Robert Castoro was born in Camden NJ, September 26, 1925. He died at 87 of natural causes in Bel Air MD, December 5, 2012.

Joe grew up in the Patterson Park area of Baltimore. He was a musical and artistic teenager who dreamed of being a composer and bandleader. He attended Calvert Hall High School during WWII when the army was drafting young men immediately after graduation. Joe chose to enlist in the Army Air Forces and finished high school in three and a half years to do so.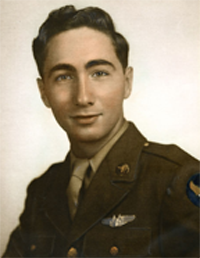 During his military training in Biloxi Mississippi, Joe won a band leading contest with the prize of conducting a song at a live performance of the Sammy Kaye orchestra. He did such an outstanding job that Sammy invited him to conduct a second song. It was a highlight of Joe's life.

Trained as a tail gunner, Joe served in the Fifteenth Air Force. He was stationed in Lecce Italy and flew 15 missions over Germany and Austria. That was all the flying Joe needed. After his discharge from the military, he refused to ever again get on a plane. End of discussion.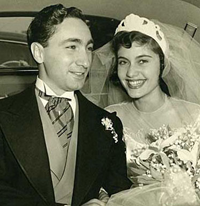 Joe married his high school sweetheart Margaret DiDomenico in 1948. He continued to compose songs, but he needed an income. He tried his hand at a number of different ventures, including owning a jewelry store and a small restaurant, before settling in as the manager of his family's motel, where he worked until retiring in 1986.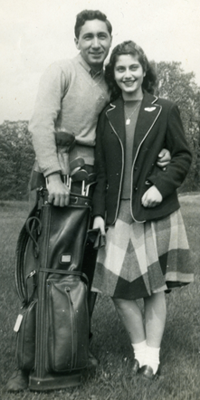 Joe was an avid golfer and great instructor. He took the game very seriously, studying the pros and keeping copious notes on courses and techniques. During his working years, he played every weekend. Once he retired, he volunteered as an instructor with the Maryland Optimist Junior Golf Program and played as often as possible. He and Margaret spent a few winters in Florida followed by twelve years full time on Skidaway Island in Georgia where golf was paramount. Joe was in heaven, but at 83 with his health failing, he and Margaret moved back to Maryland to be closer to their family.

Joe was a talented fine arts painter. When he retired, he finally had time to dedicate to his art. He tried his hand at oil, acrylic,
watercolor, chalk and oil pastels. His paintings were exhibited in shows in Maryland and Georgia and often won ribbons. His children and grandchildren proudly hang his paintings in their homes.

Joe loved to eat. One of his favorite meals was Margaret's homemade sauce and meatballs. Even in his assisted living house where he spent the last 2 years of his life, he usually requested spaghetti and meatballs when asked what he would like to eat. When Joe was robust, it was fun to watch him dive into a huge plate of food, all followed by coconut cake of course.

Joe is survived by his wife of 64 years Margaret, his daughter Lilli Filichia (married to Thomas Van Vleck), his son Charles Castoro (married to Patricia), his four grandchildren Jason Filichia, Jennifer Ercolano (married to Joseph), Elizabeth Castoro, and Jesse Van Vleck, his great granddaughter Tessa Ercolano, and his sister Dr. Vira Froehlinger. The family will celebrate Joe's life at a date to be announced in 2013. Donations in Joe's memory can be made to The First Tee, 425 South Legacy Trail, St. Augustine, FL 32092 or at www.thefirsttee.org.